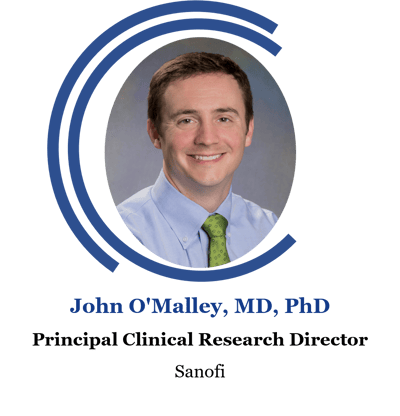 O'Malley MD, PhD is currently the Principle Clinical Research Director and Global Clinical Lead for amlitelimab, a non-depleting OX40L inhibitor, where he leads the overall global clinical development plan's execution and strategy across all indications. He most recently served as Senior Clinical Research Director for Dupixent since 2019, where he led the clinical development for the phase 3 atopic dermatitis and prurigo nodularis programs.
Prior to joining Sanofi, Dr. O'Malley was a principal investigator at Brigham and Women's Hospital studying human cutaneous T-cell lymphoma (CTCL) immunobiology and prognostic risk factors in this disease from 2014-2019. He continues to be an Assistant Professor since 2019 at Brigham and Women's Hospital and Harvard Medical School and continues to care for cutaneous lymphoma patients at Dana-Farber Cancer Institute.
Dr. O'Malley graduated from the Indiana University School of Medicine Medical Scientist Training Program in 2010 where he received his M.D. and Ph.D. degree in Microbiology and Immunology. His thesis focused on the Jak-Stat pathway in T helper cell development.